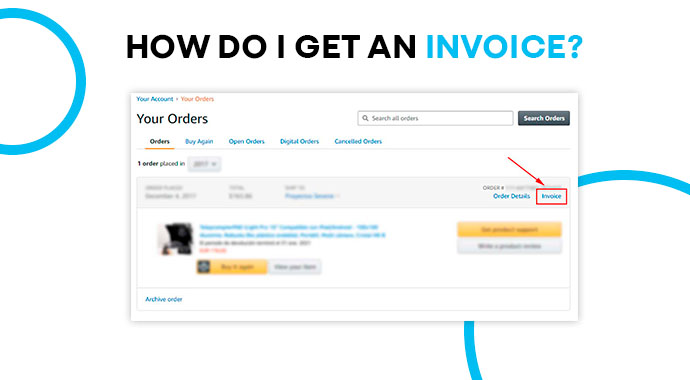 The way of obtaining your invoice depends on where you made your purchase. Please, select from the options below to quickly learn how to get your invoice:
Invoice for purchases made on TeleprompterPAD.com
If you made your purchase on TeleprompterPAD.com, please write an invoice request to invoices@teleprompterpad.com including this information:
Your order number (Learn how to know my order number?).
In case you want to change your billing information, make sure to include the following:
FULL NAME or COMPANY NAME:
ID or VAT NUMBER:
COMPLETE ADDRESS (street name, number, post code, city/town, country):
PHONE NUMBER (optional):
Our administration department will forward your invoice as soon as possible.
Invoice for purchases made on Amazon
You can download the invoice for your order directly from your orders tab on your Amazon account.
NOTE: Amazon invoices are only available after the delivery of your order. If your invoice is still not available, please wait 24 hours.
Select My account > Orders.
Find your order and click on Invoice (on the top right corner of your order box) to download the file.

If you want to change your billing information, send a request to invoices@teleprompterpad.com including the new billing information:
ORDER NUMBER (How to know my order number?)
FULL NAME or COMPANY NAME:
ID or VAT NUMBER:
COMPLETE ADDRESS (street name, number, post code, city/town, country):
PHONE NUMBER (optional):