TeleprompterPAD stands out as the ultimate, feature-rich online teleprompter app. It is available as a full, app on every app store (iOS, Android, Windows & Mac) and also as a lite version for any browser.
Download TeleprompterPAD APP for your device:
Open TeleprompterPAD APP on your browser:
Free teleprompter app - TeleprompterPAD
In today's digital age, presentations and speeches in video format have become an integral part of our professional and personal lives. Whether you're a public speaker, content creator, youtuber or influencer, having a reliable teleprompter app at your disposal can significantly enhance your performance.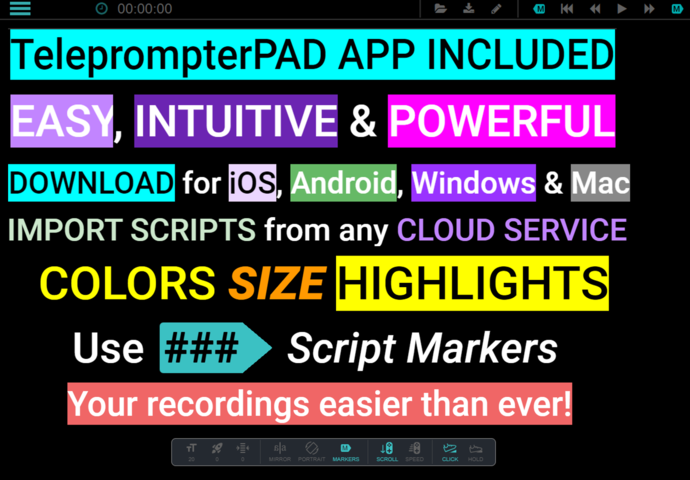 TeleprompterPAD app offers an impressive range of features that sets it apart from other free teleprompter software. The inclusion of script markers allows users to navigate through their scripts seamlessly, ensuring a smooth and well-structured delivery. Furthermore, the app provides the ability to enhance your script with various formatting options, such as colors, highlights, and rich text. You can easily make lists and emphasize important points with bold, italics, and underlined text, adding a professional touch to your content.
TeleprompterPAD app recognizes the need for customization, empowering users with precise control over text size and scrolling speed. With the ability to adjust margins, you can tailor the teleprompter display to match your specific requirements and presentation setup. The app's floating menu feature allows for on-the-fly adjustments, ensuring you maintain a smooth and natural flow while speaking. Such customization options enable a personalized experience, enhancing both comfort and confidence during presentations.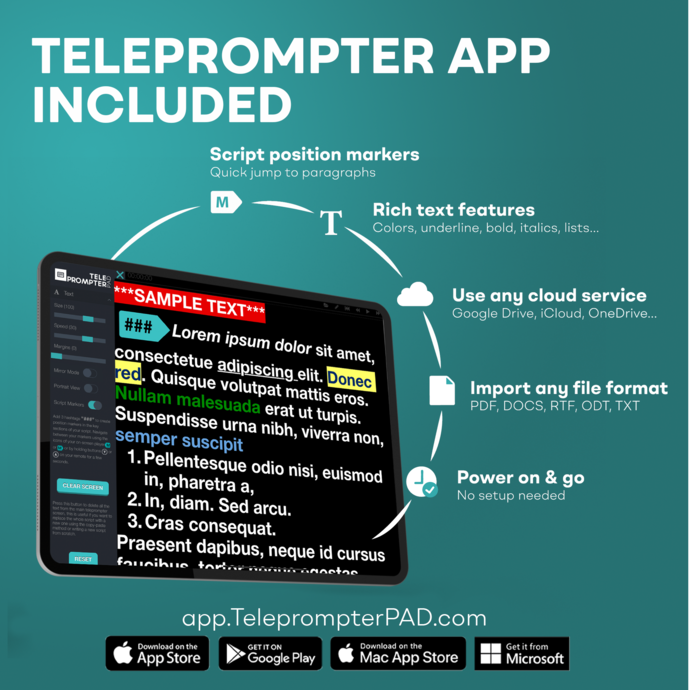 One of the standout qualities of TeleprompterPAD is its user-friendly interface. The app is designed to be intuitive and easy to navigate, making it accessible for users of all skill levels. Whether you're a seasoned professional or a novice, TeleprompterPAD's streamlined interface allows you to focus on your content and delivery, without any distractions.
Remote Control and Teleprompter Pedal
TeleprompterPAD is the only teleprompter app that has a built-in pedal mode and works out of the box with TeleprompterPAD Remote Control and Pedal Case accessory. It allows users to operate the prompter hands-free and record a wider variety of shots due to the versatility of having a hand remote and a pedal remote at once.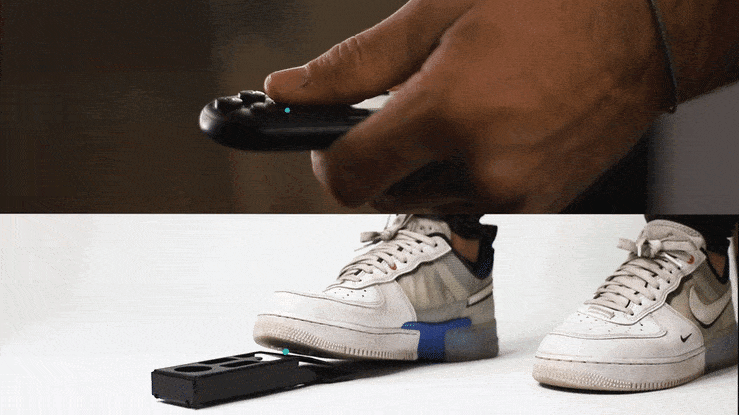 Free Online Teleprompter
If you are looking for an ad-free online prompter that will allow you to display your script without having to worry about installing any software, you should try TeleprompterPAD Web APP, a lite browser version of our free professional teleprompter app that will help you deliver your speech without loosing time memorizing every word.

Our teleprompter online app works on any browser and has no ads in it, making for a smooth and clean interface that won't cause any distractions during your recording sessions.