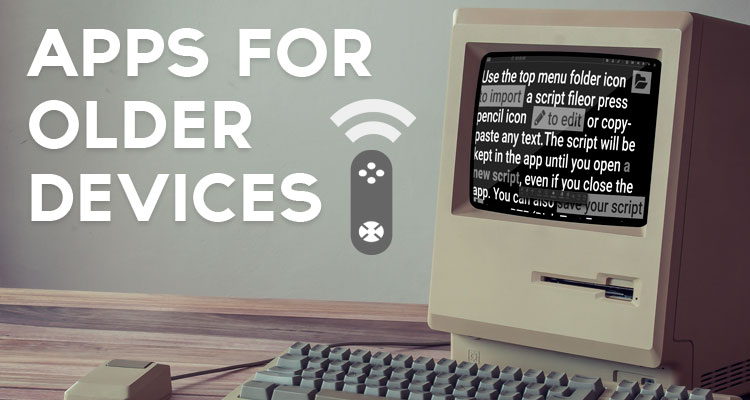 Our recommended APP for the Teleprompter PAD remote control is of course its half-made free TeleprompterPAD app.
However application store policies mean that older devices do not allow you to install recently updated apps.
Please keep in mind that we as developers cannot choose which versions of older OS we want our app to be compatible with. It is therefore the app stores that decide this, and when a developer wants to update an app they will be forced to upgrade the core of their app so that it is incompatible with the devices that the app store has decided to become obsolete. The only way to maintain backward compatibility is to never update, but then it is the app itself that will become obsolete.
If you have an obsolete device, you can read this short article where we offer you some alternative teleprompter apps partially compatible with the Teleprompter PAD remote control.
This guide contains the following main sections:
Web-APP: How to use TeleprompterPAD Web-APP with the Remote Control
Did you forget your device at home? Don't worry, you can use TeleprompterPAD Web-APP on any other device without installing anything, just open your browser and start prompting!
This is a simplified online version of our official free teleprompter app that can save your studio session and be very useful for improvised or emergency recordings.
PLEASE NOTE: The Web-APP is a lite version intended for those devices that cannot run the full app version or for occasional emergency uses. If possible, we strongly encourage users to download the full version.
You can use the TeleprompterPAD Web-APP for FREE on this link:
How to use the PrompterPal APP [a.k.a. iCue or iAutocue] with the TeleprompterPAD Remote Control on iOS
The Prompter Pal APP, also known as iAutocue or iCue, is a great teleprompter APP for iOS that works with our Teleprompter PAD Remote Control natively.
Easily select the TeleprompterPAD preset on the remotes menu and start prompting! You can also manually map the remote to your liking in case you need to.
Learn how to use the TeleprompterPAD Remote Control with the Prompter Pal APP with this quick video tutorial:
This 3 APPs are identical but have different names due to brand licensing policies. Their prices vary often so make sure to check all three links and choose the most affordable one.
You can download the different versions of this APP on the following links:
How to use Simple Teleprompter APP with the TeleprompterPAD Remote Control on Android
Simple Teleprompter is a straight-forward APP, with very basic functions that could be useful in case you don't need anything too fancy.
When paired together with our TeleprompterPAD Remote Control it becomes a very simple yet practical and easy to use system for elemental prompting: play, pause and move your script forward and backwards.
Download Simple Teleprompter APP for FREE from this link:
Want to upgrade your teleprompter game?
Check out our teleprompter pedal case accessory that turns your remote control into a foot switch pedal. Hands-free teleprompting has never been so convenient!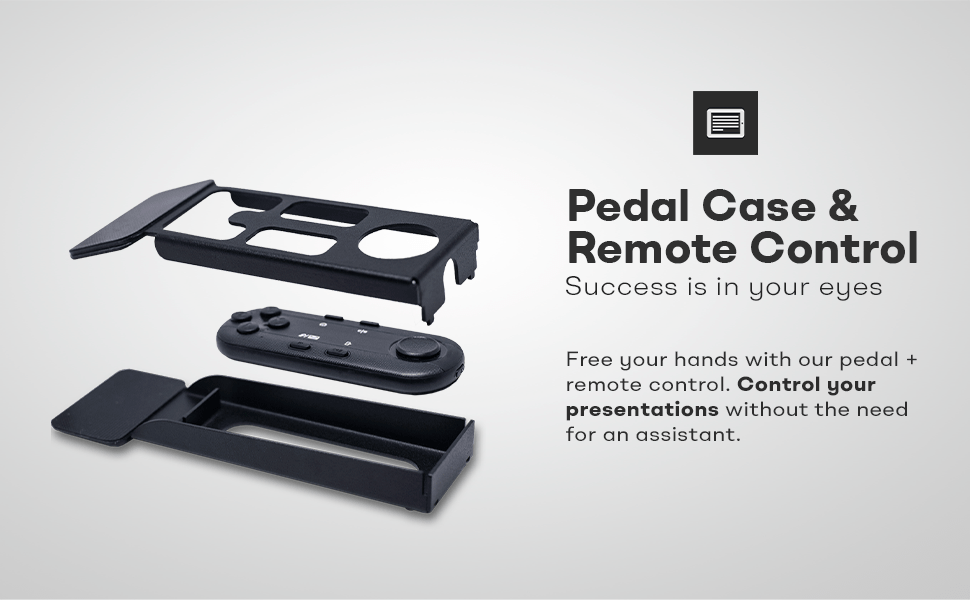 We hope you enjoy your TeleprompterPAD Remote Control. If you have any questions or need support while setting up your teleprompting system, please contact us.
Happy prompting!