Our range of Teleprompters has a maximum device size limit for their bottom-front tray, but there's not a minimum size requirement. This leaves the door open for those users who prefer to use a smaller device, such a small tablets or an iPad mini, as well as a Smartphone or iPhone.
How do I fit my Smartphone or iPhone on the Teleprompter tray when using it as a text source? How do I prevent it from slipping?
Our TeleprompterPAD kits include 4 ready-to-install adhesive non-slip pads.
These pads are not pre-installed at the factory to allow the customer to decide where to place them on the bottom-front tray of the TeleprompterPAD, so that they can be adjusted to the dimensions of the device the user prefers to use. These pads will save your device from getting scratched and will improve its grip.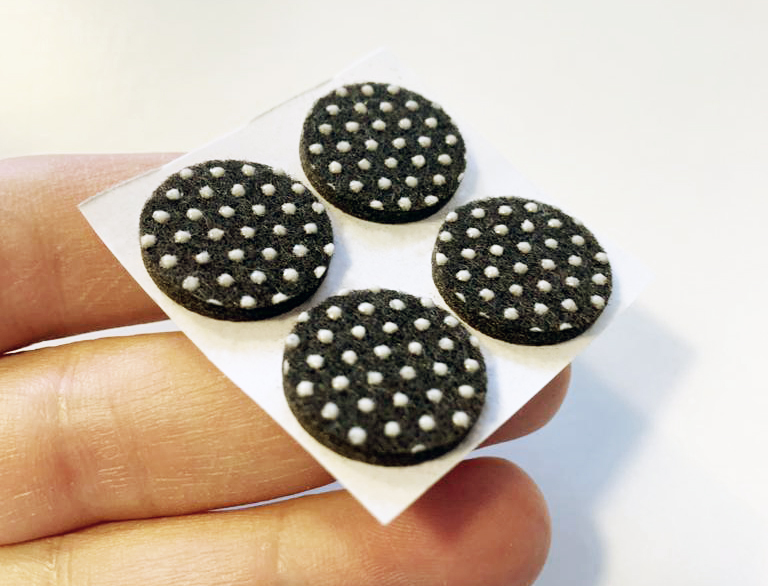 How can I further improve the grip of the Smartphone / iPhone when using it as a text source?
Find below a simple, practical and very economical trick used by some of our clients. You will only need:
A case for your device: Any old case you might have laying around or a cheap rubber cover for your device model will do.
A strip of adhesive Velcro
Follow the next 3 steps:
Stick one part of the adhesive Velcro centered on the back of the phone case. Stick the other side on the center of bottom tray of your TeleprompterPAD.

TIP: The ideal position for the phone on the lower tray is where the phone screen reflection projects over the lens of your camera hidden behind the mirror. That way you will reduce eye-movement and improve the quality of your recordings.

Attach the phone case to the bottom tray by joining both Velcro strips together.

Finally, insert your smartphone / iPhone into the phone case.
In case you may want to use a different device in the future, such as Tablet or an iPad, simply remove the case leaving only the velcro strip on the bottom tray.