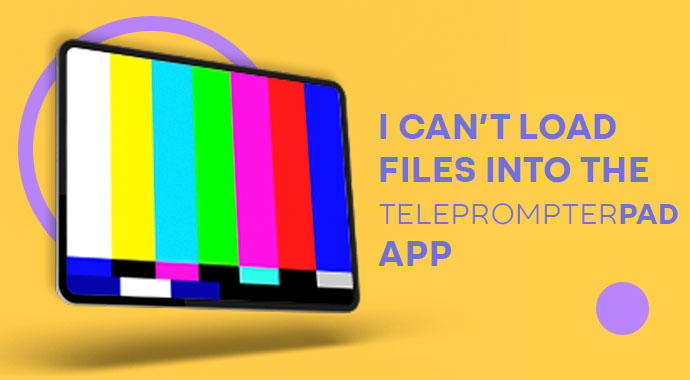 I have set everything up but I can't load files into the app. I am using Microsoft Word (.doc or .docx files) and/or Adobe Acrobat Reader (.pdf files) but all files are greyed out in the app. I have managed to copy and paste my script onto the TeleprompterPAD app screen, but I don't want to use this method with all scripts. How can I load files directly into your app?
Answer from TeleprompterPAD
Please check your version of teleprompterpad app, you probably need to upgrade to a newer version.
TeleprompterPAD installable app for iOS, Android, PC and Mac
The TeleprompterPAD installable app for iOS, Android, PC and Mac supports text file formats: PDF, DOCX, ODT and TXT, so please make sure you use the latest available version of the installable app for your system.
Find the latest version of the Teleprompter PAD app compatible with your system: How to use TeleprompterPAD Remote Control - free teleprompter app included
TeleprompterPAD Web-APP version
However the Web-APP version, since it is a lighter "lite version", only supports TXT files or the option to open files with the copy-paste method. You can save or convert to .txt format from any text software, such as Microsoft Word or Pages or you can use a fee online service.
Please check the following article to know more:
How to convert any text script into .txt format compatible with TeleprompterPAD app
However, reading a file is not mandatory, you can use the alternative copy-paste method which in most cases is faster and easier.
You can read about the methods of reading texts from this short article: How to transfer my script text from my computer (PC or Mac) to my device (iOS or Android) to open it in the TeleprompterPAD app